---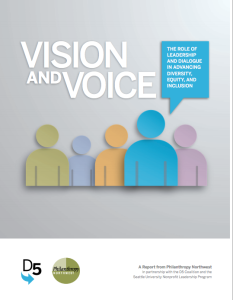 The first of three research reports commissioned by D5 has just come online: "Vision and Voice: The Role of Leadership and Dialogue in Advancing Diversity, Equity, and Inclusion." Produced by Philanthropy Northwest, in partnership with the Seattle University Nonprofit Leadership Program, the report is an analysis of a peer-learning group of 10 foundation CEOs in the Pacific Northwest and interviews with 23 philanthropic leaders that offers insights and practical lessons for creating an organizational culture supportive of diversity, equity, and inclusion (DEI). More »
---
In this webinar, Sindhu Knotz of Philanthropy Northwest discusses her organization's forthcoming report on the role of foundation leadership in advancing diversity, equity, and inclusion. Susan Anderson, President and CEO of The CIRI Foundation, and Kris Hermanns, Executive Director of Pride Foundation, share their experiences from participating in the project, providing first-person perspective.
You can download the slides here.

---
---
Later this month, D5's director, Kelly Brown will participate in the joint conference of Philanthropy Northwest and GRANTMAKERS of Oregon and Southwest Washington.  The conference in Sunriver, Oregon, will feature the great work being done in the region to strengthen the relationship between philanthropic institutions and the diverse communities they serve. Philanthropy Northwest will release its new research on the role of leadership in advancing DEI. GRANTMAKERS will showcase its Data Challenge, a pilot campaign in partnership with the Foundation Center to collect grantamaking data that is shared in an interactive mapping tool.
In anticipation of her role in the upcoming Sunriver conference, Kelly conducted an interview with Jeff Clarke of Philanthropy Northwest in which she reflects on the work of D5 and progress in the field to advance diversity, equity, and inclusion.
---