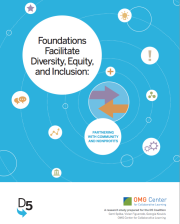 Foundations Facilitate Diversity, Equity, and Inclusion: Partnering with Community and Nonprofits, a new report by the OMG Center for Collaborative Learning, confirms that foundations can, in fact, facilitate diversity, equity, and inclusion (DEI) through their grantmaking processes and their partnerships with nonprofits—and identifies eight specific practices for foundations to emulate. More »
---
The Chronicle of Philanthropy is hosting a webinar on September 11, 2014, on engaging and attracting Hispanic donors. Ana Gloria Rivas-Vázquez, Regional Development Director at Catholic Relief Services and independent researcher, and Damaris Montalvo, Business Development Supervisor at Russ Reid, will share key research findings on Hispanic giving and offer strategies for success with Hispanic donors.
This webinar will also focus on creative and effective fundraising appeals that resonate with Hispanic donors, as well as relationship building with your donors.
If one of your Take 5 actions is to recruit diverse donors, this webinar will be a great resource to help you to take action!
For more information and registration please click here.
---
One of the frequently asked questions from people who are interested in advancing diversity, equity, and inclusion (DEI) is, "How can we start?"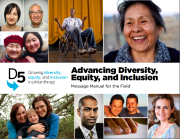 As listed on the Take 5 Action page, there are different actions that you can take to advance DEI. One of them is as simple as starting a conversation about DEI. You can either schedule a formal conversation by putting DEI on the agenda of your next board meeting, or meet with a colleague at another foundation to discuss ways to advance DEI.
D5, with our communications partner Hattaway Communications, has developed two communications tools for you to effectively talk about diversity, equity and inclusion. More »
---
This piece by D5 Director Kelly Brown was originally published in The Chronicle of Philanthropy on July 13, 2014. You can access the article here. 
Just last month we witnessed a sea change as tech companies released data that pulled back the curtain on the diversity of their work forces. Yahoo was the latest to do so, disclosing that only 37 percent of its global work force is made up of women. When looking at its U.S. work force, only 4 percent of its employees are Latino and only 2 percent are African-American.
The makeup of Yahoo's work force is not too different from that of Google and LinkedIn, which preceded Yahoo by a few weeks in their move toward transparency. Latinos make up 3 percent of Google's U.S. work force, while African-Americans make up 2 percent. At LinkedIn, it's 4 and 2 percent, respectively.
As alarming as this information is, it actually represents an important step forward for technology companies. As Laszlo Bock, Google's senior vice president for people operations, said, "It's hard to address these kinds of challenges if you're not prepared to discuss them openly and with the facts." More »
---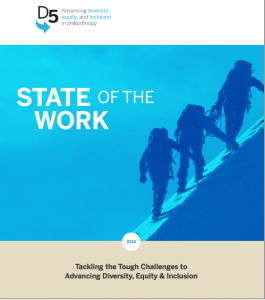 July marks another milestone for D5 with the release of the 4th annual report on DEI progress: State of the Work 2014: Tackling the Tough Challenges to Advancing Diversity, Equity & Inclusion.
This year's State of the Work report highlights new tools and resources, recently completed research, and new organizational approaches that can help foundations and philanthropic organizations take action, achieve their goals regarding DEI, and advance the common good.
The new report catalogs the progress D5 has made in laying the groundwork for a growing movement including several long-term projects that came to fruition in the past year:
An Analysis of Policies, Practices, and Programs for Advancing DEI. In fall 2013, D5 released a comprehensive scan and analysis of scores of written and web-based resources.
Deployment of a Regional Strategy. Recognizing that most philanthropy occurs on the local level, D5 complemented its national work by implementing a regional strategy, which targets DEI resources and support to pre-existing and emerging local networks in select regions of the country.
Insights on Diversity: Three Commissioned Research Projects. D5 commissioned a series of research projects to explore: 1) The role of leadership in advancing DEI; 2) Career pathways for people of color in philanthropy; 3) The interactive factors between philanthropy and nonprofit organizations.
This year, to help broaden the DEI conversation D5 invited three thought leaders to contribute their perspectives and analyses of the issues facing the philanthropic community, and present a charge to their peers to have the difficult but necessary conversation about advancing DEI within their own organizations:  Ange-Marie Hancock, Associate Professor of Political Science and Gender Studies at the University of Southern California; Todd Vogel, the Managing Director of Loom; and Gerri Spilka, Founding Director of the OMG Center for Collaborative Learning.
The full State of the Work 2014 report is available here.
---