In this webinar, Sindhu Knotz of Philanthropy Northwest discusses her organization's forthcoming report on the role of foundation leadership in advancing diversity, equity, and inclusion. Susan Anderson, President and CEO of The CIRI Foundation, and Kris Hermanns, Executive Director of Pride Foundation, share their experiences from participating in the project, providing first-person perspective.
You can download the slides here.

---
---
Later this month, D5's director, Kelly Brown will participate in the joint conference of Philanthropy Northwest and GRANTMAKERS of Oregon and Southwest Washington.  The conference in Sunriver, Oregon, will feature the great work being done in the region to strengthen the relationship between philanthropic institutions and the diverse communities they serve. Philanthropy Northwest will release its new research on the role of leadership in advancing DEI. GRANTMAKERS will showcase its Data Challenge, a pilot campaign in partnership with the Foundation Center to collect grantamaking data that is shared in an interactive mapping tool.
In anticipation of her role in the upcoming Sunriver conference, Kelly conducted an interview with Jeff Clarke of Philanthropy Northwest in which she reflects on the work of D5 and progress in the field to advance diversity, equity, and inclusion.
---
Supporting diverse emerging leaders is one way to Take Action to advance diversity, equity, and inclusion in philanthropy. By helping to build the pipeline of strong diverse leaders, you help to expand the pool of future foundation CEOs and trustees that reflect demographic trends.
The Association of Black Foundation Executives (ABFE) is one of several organizations that offer  leadership preparation programs for diverse philanthropy professionals. Learn more about ABFE's Connecting Leaders Fellowship – now accepting applications.
Another model to take a look at is the MCF Philanthropy Fellowship which is sponsored by the Minnesota Council on Foundations and the Bush Foundation. This program prepares individuals from underrepresented groups for careers in philanthropy.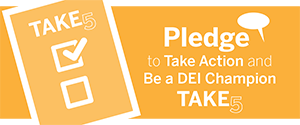 ---
BoardSource is hosting two webinars this month on Diversity and Inclusion. Both webinars highlight the importance of the board's role in advancing DEI and offer concrete ways to take action.
Webinar 101: Spotlight on Diversity and Inclusion (2014-04)
Date: April 22, 2014
Event start time: 2:00 PM Eastern Time
Change in the diversity and inclusion agenda is most successful when the issues are linked to the mission and when the leadership demonstrates a strong commitment to making it happen. This webinar will focus on building leadership capability around inclusion through communication, commitment, and six key action steps.
For more information, please click here.
Webinar 201: Breaking Down Barriers: Achieving Real Board Diversity & Inclusion (2014-04)
Date: April 29, 2014
Event start time: 2:00 PM Eastern Time
This webinar will discuss some of the structural, cultural, and emotional barriers that exist on nonprofit boards when it comes to building greater diversity among members. The webinar will also feature the steps to breakthrough these barriers along three dimensions for sustainable board diversity and inclusion.
For more information, please click here.   
---