Posts tagged 'equity'
---
Later this month, D5's director, Kelly Brown will participate in the joint conference of Philanthropy Northwest and GRANTMAKERS of Oregon and Southwest Washington.  The conference in Sunriver, Oregon, will feature the great work being done in the region to strengthen the relationship between philanthropic institutions and the diverse communities they serve. Philanthropy Northwest will release its new research on the role of leadership in advancing DEI. GRANTMAKERS will showcase its Data Challenge, a pilot campaign in partnership with the Foundation Center to collect grantamaking data that is shared in an interactive mapping tool.
In anticipation of her role in the upcoming Sunriver conference, Kelly conducted an interview with Jeff Clarke of Philanthropy Northwest in which she reflects on the work of D5 and progress in the field to advance diversity, equity, and inclusion.
---
While Analysis of Policies, Practices, & Programs Reveals Factors in Successful DEI Advancement, Opportunities Remain to Institutionalize Practices & Address Equity
CHICAGO, IL – A scan of philanthropy commissioned by the D5 Coalition has revealed emerging trends within the sector to successfully advance diversity, equity, and inclusion (DEI). The comprehensive scan, which reviewed written and web-based resources from philanthropy, as well as the fields of organizational effectiveness and social justice, identified five key elements—the "5 Ms"—critical to advancing DEI: Mobilizers, Missions, Money, Moments and Movements. A copy of the full report is available here.
"Advancing diversity, equity, and inclusion is critical to advancing the common good, increasing the effectiveness, and enhancing the impact of philanthropy," said Kelly Brown, Director of the D5 Coalition. "This analysis provides philanthropic organizations with the recipe to help successfully advance DEI. D5 will continue to be a resource for philanthropies to network and learn how other foundations are successfully advancing DEI and how they can do the same."
The scan found that while foundations incorporate DEI in a wide range of ways, the 5 Ms frequently stimulate change: More »
---
The changing face of America has been a topic of conversation in many sectors lately. What are communities doing to embrace this change in demography? Dubuque is ready to take on the challenge to create a more inclusive and diverse community.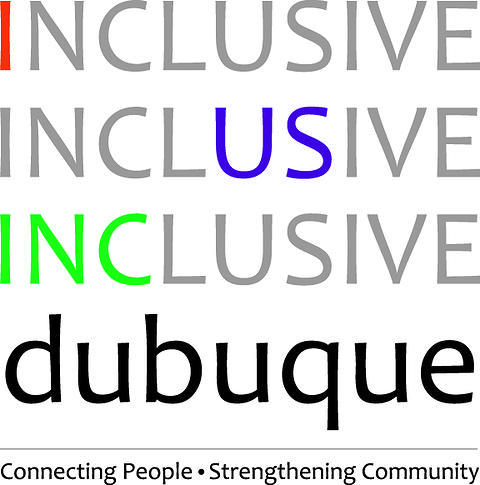 Inclusive Dubuque is a local initiative to create a welcoming and inclusive environment for everyone in the community. It seeks to ensure that all community members have access to all the resources that the community can offer.
Diversity and inclusion mean that diverse people are supported and included in making their best contributions to the community. Communities can only be further strengthened when people are able to share and learn from each other's diverse backgrounds and perspectives.
Advancing diversity, equity, and inclusion is challenging and can be especially challenging when the conversation turns to race. In Dubuque, previous attempts to establish an action plan to create a diverse, welcoming community became bogged down in racial issues, according to Eric Dregne, vice president of strategic initiatives for the Community Foundation of Greater Dubuque. However, Inclusive Dubuque is trying to overcome this challenge, and focus the conversation on accepting people of difference in the community. One of the initiative's action items is to develop a culturally competent education system, which will focus on an "intercultural approach to educate by honoring one's own culture and valuing other cultures, through civility, compassion, and respect." It is hoped that this can begin to steer people into the right conversations about diversity, equity, and inclusion. More »
---
Raquel Donoso, Executive Director of the Latino Community Foundation, writes about the changing face of philanthropy – it's no longer just the 1%. Today, Raquel will be speaking at the Council on Foundations Community Foundations Conference about the new generation of donors who are more diverse and hungry to change the world for the better. Read her message below. Yesterday,  D5 Director, Kelly Brown wrote from the conference about how shifting demographics are a wake up call for philanthropy. You can read it here.
Also, if you haven't already seen it, take a look at D5's film, I Am A Philanthropist, which showcases the profiles of several diverse donors who are changing the face of philanthropy.
I am a philanthropist. My mom is a philanthropist. My friends are philanthropists. We are the future of philanthropy.
I come from a generous family that always gave back to the community. We gave every Sunday to church, we gave to school, we gave to causes, we donated our time, and we opened our home to families immigrating to this country. Our family embodied the core of what philanthropy is; even though I did not hear that word until college, it was not a word that was uttered in our home. More »
---
While folks here in California are no strangers to the earth moving beneath their feet, they are currently witnessing a seismic shift of another kind. Earlier this year, for the first time, the population of Latinos in California equaled the number of whites. And by early 2014, California will likely become the second state in which Latinos are the largest racial or ethnic group (New Mexico being the first).
As the population shifts, so too must the mindset and make-up of foundations and philanthropic organizations. A failure to do so risks alienating a new generation of leaders and donors who are coming of age in this new demographic landscape, but do not see it reflected in the philanthropic community.
According to the State of the Work report authored by the D5 Coalition, which seeks to grow diversity, equity, and inclusion in philanthropy, only 4 percent of foundations have a Latino president or CEO, while only 7 percent of foundation boards/trustees are Latino. This underrepresentation could help explain why, according to the Foundation Center, U.S. foundation giving designated to benefit Latinos comprised only 1 percent of total foundation funding in the first decade of this century, despite the growth of the Latino population. More »
---