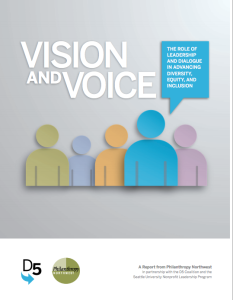 The first of three research reports commissioned by D5 has just come online: "Vision and Voice: The Role of Leadership and Dialogue in Advancing Diversity, Equity, and Inclusion." Produced by Philanthropy Northwest, in partnership with the Seattle University Nonprofit Leadership Program, the report is an analysis of a peer-learning group of 10 foundation CEOs in the Pacific Northwest and interviews with 23 philanthropic leaders that offers insights and practical lessons for creating an organizational culture supportive of diversity, equity, and inclusion (DEI).
The report adds to the growing body of research on the important role that foundation leaders play in advancing DEI. Here are a few of the key findings:
Leadership from the CEO is critical
Leaders need support from their peers
Leaders must foster an environment that encourages learning.
Talking about inequality, particularly race, is complex but essential
Experimenting is important when it comes to recruitment and retention
Sharing life experiences builds trust
Place matters—tailor your approach to the unique diversity of your region and community
D5 recently hosted a webinar with the report's authors and members of the peer-learning group and the response was overwhelmingly positive. Clearly, the insights and strategies featured in the report are resonating with those who are already engaged in this work and with those who want to get started.
Be sure to check back here in the coming weeks as D5 prepares to release two more reports—one from Forward Change on keys to recruiting and retaining people of color, and one from OMG Center for Collaborative Learning on best practices to advance DEI within an organization.
Tags: action, Philanthropy Northwest, research
---