Posts tagged 'transparency'
---
Check out Kelly's recent blog post on Transparency Talk about the benefits of foundation transparency on diversity and equity data.
Philanthropy exists for the common good, and advancing diversity, equity, and inclusion helps us live up to that value. In particular, thinking about equity in our grantmaking helps ensure that we are having the greatest impact on the issues identified in our unique missions—by targeting resources to the people in our constituencies with the greatest need.
---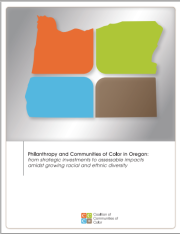 This 2011 report by the Coalition of Communities of Color addresses a commonly identified need across communities of color and organizations of color to build and strengthen relationships with the local philanthropic community. This dialogue brought together the Coalition of Communities of Color and the Northwest Health Foundation to engage in a project to intentionally build relationships between communities of color and the philanthropic community. The recommendations are intended to ensure open and transparent grantmaking that benefits all Oregonians.
---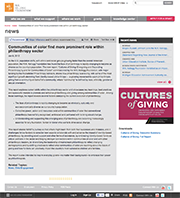 This 2012 report provides an overview of the W.K. Kellogg Foundation's Cultures of Giving grantmaking strategy to build the field of identity-based philanthropy through capacity building, network building, and donor engagement and offers lessons learned, including the importance of trust and transparency.
---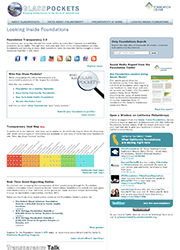 ---