Posts tagged 'LGBTQ'
---
Yesterday, two rulings by the Supreme Court paved a path of progress in the fight for marriage equality.We all know the work doesn't stop at marriage equality; there is much to be done to achieve full equity for everyone in the LGBT community. We are hopeful that, as a field, we can take advantage of the current momentum to continue to advance equity.
That said, these two historic milestones are a result of countless individuals and groups who decided to take action. Roger Doughty, Executive Director of Horizons Foundation, in this very inspiring letter, points to the millions who have taken an action to fight for marriage equality. We hope that this will inspire you to take action to advance diversity, equity and inclusion in your work! Be on the right side of history. 
The work goes on, but for now, we celebrate.   More »
---
Today marks a historic moment in the LGBT movement; the Defense of Marriage Act has been deemed unconstitutional by the Supreme Court and Prop 8 has been dismissed on standing. These two rulings are important marks of progress in the marriage equality movement, but the LGBT community continues to face a broad range of issues that still prevent LGBT people from obtaining full equality and fairness including the rights of LGBT immigrants, people of color, and women.
The new report  At the Crossroads: The Future of the LGBT Movement, released by the Building Movement Project, explores the future of the LGBT movement as progress continues in the fight for marriage equality. Marriage equality is seen as a single-issue fix, and with that comes the risk of sidelining other important issues that the LGBT community might face. At the Crossroads looks at core elements of movement building, and how the LGBT movement can capitalize on the current momentum to go beyond marriage equality, and tackle the challenge of balancing systemic reforms through public policy, and a broad social change.
The report point to four key areas of focus on how the movement can move forward: by defining the new vision to include equity and justice for all, extending and diversifying base building, strengthening the infrastructure and deepening alliances. 
You can read the report here and a very thoughtful blog post by Sean Thomas-Breitfeld on the importance of the movement going beyond marriage equality to fully achieve equality and inclusion.
---
Roger Doughty, Executive Director of Horizons Foundation pens this beautiful letter celebrating the San Francisco Pride. More »
---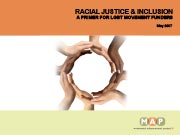 This 2007 publication by Movement Advancement Project provides information to LGBT movement funders to work explicitly on issues of racial justice and inclusion within and around the LGBT movement.  It makes the case for why funders for LGBT equality should work explicitly on racial matters, recommends philanthropic approaches to racial justice and inclusion, and identifies considerations specific to LGBT movement work on racial equity and inclusion.
---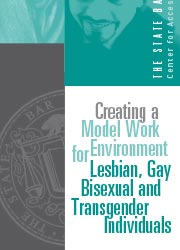 This 2007 brochure by State Bar of California provides model practices for legal employers to promote a nondiscriminatory workplace for employees who are lesbian, gay, bisexual and/or transgender.  It includes a basic set of definitions, specific recommendations, benefits and training; and outreach, hiring and retention; and model practices or policies used by some employers in California.
---