Posts tagged 'leaders'
---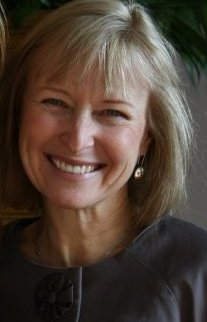 At D5, we believe in the importance of showcasing the work being done to advance Diversity, Equity, and Inclusion in the field. The following post is part of our ongoing series Building the Movement: Leaders Advancing Diversity, Equity, and Inclusion in Philanthropy.
By Frances Sheehan
So much of everything of real value is learned in kindergarten. Reading Daniel Goleman's new book, Focus: The Hidden Driver of Excellence is a dense exploration of the neurologic underpinnings of how children – and adults – can better learn to focus for greater creativity and intellectual accomplishment. The words of the narrator remind me of my own kindergarten days.
I can hear my dad's deep voice: "concentrate, concentrate, concentrate." For the little girl whose report card said, "lacks self-control" (really just another way of saying "too enthusiastic about life"!), those were simple words but they still ring in my ears more than 50 years later.
So when I hear leaders – whether paid or volunteer – complain that they're struggling to diversify their boards, I'm reminded of another early and very simple lesson: Make new friends. More »
---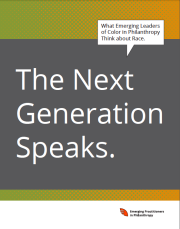 ---
In this article,  Sharon Bush, Co-chair of Chicago African Americans in Philanthropy, talks about the importance of African-American leadership in philanthropy. 
There is a lot of discussion about the importance of diversity and countless efforts to increase it in workplaces and boardrooms. The same is true for philanthropy. Some efforts have worked. Foundations have done a good job of diversifying administrative, entry-level and midmanagement positions.
But seldom do these efforts result in the advancement of people of color into leadership positions. This is particularly true for African-Americans in philanthropy. More »
---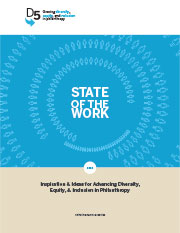 The third in a series, D5′s State of the Work 2013 features lessons learned from executives of the American Express Foundation, the Baltimore Community Foundation, Access Strategies Fund, the Silicon Valley Community Foundation, Lloyd A. Fry Foundation, Capek Consulting, Russell Family Foundation and FSG. The report draws on the successes and challenges of philanthropic leaders to create a more diverse sector in 2012—and offers actions to inspire leaders to advance diversity, equity, and inclusion in 2013.
---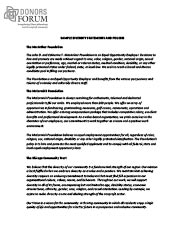 ---