Posts tagged 'Foundation Center'
---
Check out Kelly's recent blog post on Transparency Talk about the benefits of foundation transparency on diversity and equity data.
Philanthropy exists for the common good, and advancing diversity, equity, and inclusion helps us live up to that value. In particular, thinking about equity in our grantmaking helps ensure that we are having the greatest impact on the issues identified in our unique missions—by targeting resources to the people in our constituencies with the greatest need.
---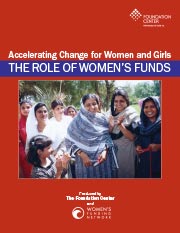 This 2009 report by The Foundation Center and Women's Funding Network provides an overview of the current landscape of philanthropy focused on women and girls, and serves to document the specific role played by women's funds. The report finds that in recent years funding for women and girls by the broader foundation community has grown at a faster rate than foundation giving on the whole, although as a share of overall foundation giving, it has remained below 7.5 percent for over a decade-and-a-half.
---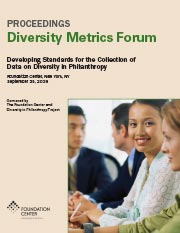 This 2009 report summarizes discussions that took place at the Diversity Metrics Forum, a meeting convened by the Foundation Center. The Forum brought together 47 foundation leaders, researchers, and representatives of philanthropic organizations to discuss strategies for systematically collecting data on diversity in philanthropy.
---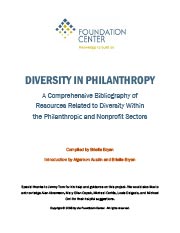 This 2008 publication by the Foundation Center provides a bibliography on diversity in philanthropy documents and attempts to capture the range of substantial literature on this topic. Entries cover the traditions of giving among different racial groups as well as the practices of foundations and nonprofits, theoretical issues and practical how-to guides. Some of the literature focuses on diversity in general, the majority of the publications focus on one or more of the following: racial and ethnic minorities; women; the lesbian, gay, bisexual, and transgender community; people with disabilities; the economically disadvantaged; and rural communities.
---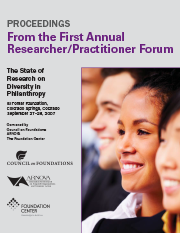 This report presents the proceedings from the first annual Researcher/Practitioner Forum on diversity in philanthropy that took place September 27–28, 2007, in Colorado Springs, Colorado. Sponsored by the Association for Research on Nonprofit Organizations and Voluntary Action (ARNOVA), the Council on Foundations, and the Foundation Center,the purpose of the Forum was to provide an opportunity for grantmakers and researchers to exchange ideas on key issues in philanthropy to help focus and generate research that improves the quality and effectiveness of grantmaking.
---