Posts tagged 'disability'
---
by: Susan Olivo and Elaine Katz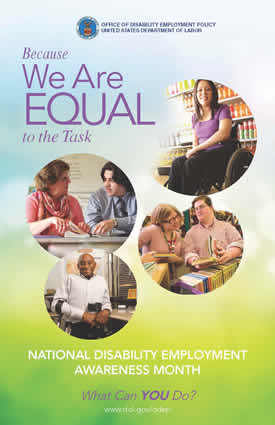 Each October, in recognition of National Disability Employment Awareness Month, our nation honors the invaluable contributions of Americans with disabilities to our nation's workforce. These friends and colleagues overcome adversity on a daily basis to help drive our economy forward.
It is also a time to ask ourselves what we all can do to help break down the barriers between individuals with disabilities and the jobs for which they are qualified. To help prevent discrimination against those with disabilities, and help support a diverse workforce, philanthropy should take the lead in ensuring equal employment opportunities for all.
An estimated 58 million Americans have at least one disability, making them the largest minority group in the nation. As baby boomers age, and service members transition back to civilian life, experts estimate that number could double within 20 years. Nevertheless, less than 3 percent of philanthropic giving is directed to programs serving people with disabilities.
Even after 23 years of the Americans with Disabilities Act being signed into law, achieving equality of opportunity, with full inclusion in the workplace remains elusive for the 58 million Americans facing physical, social or emotional challenges.
Youth with disabilities face significant challenges in school and in the transition to adult life. National studies show that compared to their non-disabled peers, students with disabilities are less likely to receive a regular high school diploma, drop out twice as often, and enroll in and complete post-secondary education programs much later after leaving high school and at just half the rate.
---
Below, Lynne O'Hara, Executive Director of the Special Hope Foundation, shares her recent experience speaking on a D5 panel at Northern California Grantmakers' Diversity in Philanthropy Series and shares insight on the intersection of disability and philanthropy.
I recently had the opportunity to speak on a panel at Northern California Grantmakers' Diversity in Philanthropy Series, where D5 gave an update of its work. Northern California Grantmakers hosted a variety of local grantmakers to learn more about the progress of the coalition with a particular emphasis on looking beyond typical definitions of diversity in order to include individuals from the LGBT community and those with disabilities.  I was impressed with this concerted effort to promote a more inclusive mindset among funders, many who would gladly align themselves with this mission but have a harder time practically adopting these principles into their grantmaking efforts.  In fact, while society as a whole has an increased level of sensitivity when it comes to gender and racial prejudice, there is less awareness of the prevalence of discrimination toward other groups.  As the director of an organization that supports the causes of individuals with disabilities, I find this to be true more often than not.
---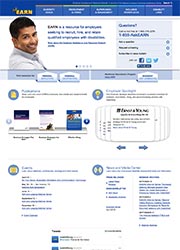 ---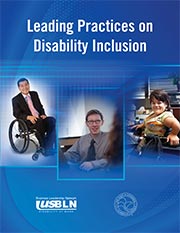 This publication by the U.S. Business Leadership Network provides insights from companies and leaders as they navigate inclusion of people with disabilities in all aspects of their organizations. It includes a workplace disability assessment tool as well as case examples of successful strategies from the Leading Practices on Disability Inclusion initiative.
---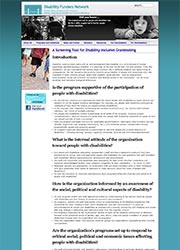 ---