News from the field
---
Last month, EPIP held a webinar titled: Navigating Shifting Sands – What We Can All Learn from Jewish Charitable Giving to discuss findings from the first-ever national study on American Jewish giving. This research, Connected to Give: Key Findings, is the product of a collaboration of more than a dozen Jewish private and community foundations working in partnership with Jumpstart to map the landscape of charitable giving by American Jews. More »
---
by: Susan Olivo and Elaine Katz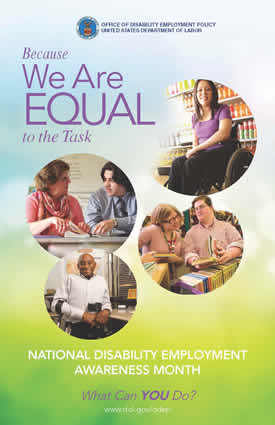 Each October, in recognition of National Disability Employment Awareness Month, our nation honors the invaluable contributions of Americans with disabilities to our nation's workforce. These friends and colleagues overcome adversity on a daily basis to help drive our economy forward.
It is also a time to ask ourselves what we all can do to help break down the barriers between individuals with disabilities and the jobs for which they are qualified. To help prevent discrimination against those with disabilities, and help support a diverse workforce, philanthropy should take the lead in ensuring equal employment opportunities for all.
An estimated 58 million Americans have at least one disability, making them the largest minority group in the nation. As baby boomers age, and service members transition back to civilian life, experts estimate that number could double within 20 years. Nevertheless, less than 3 percent of philanthropic giving is directed to programs serving people with disabilities.
Even after 23 years of the Americans with Disabilities Act being signed into law, achieving equality of opportunity, with full inclusion in the workplace remains elusive for the 58 million Americans facing physical, social or emotional challenges.
Youth with disabilities face significant challenges in school and in the transition to adult life. National studies show that compared to their non-disabled peers, students with disabilities are less likely to receive a regular high school diploma, drop out twice as often, and enroll in and complete post-secondary education programs much later after leaving high school and at just half the rate.
---
The changing face of America has been a topic of conversation in many sectors lately. What are communities doing to embrace this change in demography? Dubuque is ready to take on the challenge to create a more inclusive and diverse community.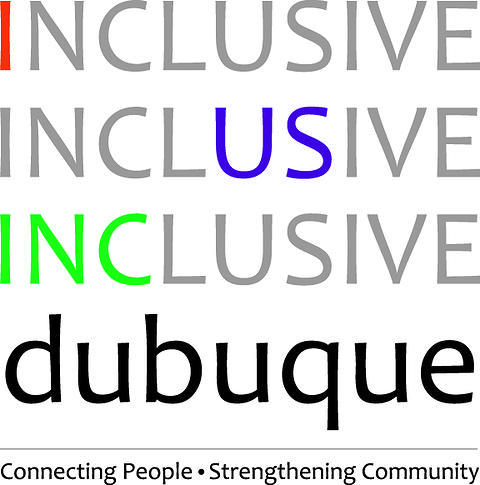 Inclusive Dubuque is a local initiative to create a welcoming and inclusive environment for everyone in the community. It seeks to ensure that all community members have access to all the resources that the community can offer.
Diversity and inclusion mean that diverse people are supported and included in making their best contributions to the community. Communities can only be further strengthened when people are able to share and learn from each other's diverse backgrounds and perspectives.
Advancing diversity, equity, and inclusion is challenging and can be especially challenging when the conversation turns to race. In Dubuque, previous attempts to establish an action plan to create a diverse, welcoming community became bogged down in racial issues, according to Eric Dregne, vice president of strategic initiatives for the Community Foundation of Greater Dubuque. However, Inclusive Dubuque is trying to overcome this challenge, and focus the conversation on accepting people of difference in the community. One of the initiative's action items is to develop a culturally competent education system, which will focus on an "intercultural approach to educate by honoring one's own culture and valuing other cultures, through civility, compassion, and respect." It is hoped that this can begin to steer people into the right conversations about diversity, equity, and inclusion. More »
---
Raquel Donoso, Executive Director of the Latino Community Foundation, writes about the changing face of philanthropy – it's no longer just the 1%. Today, Raquel will be speaking at the Council on Foundations Community Foundations Conference about the new generation of donors who are more diverse and hungry to change the world for the better. Read her message below. Yesterday,  D5 Director, Kelly Brown wrote from the conference about how shifting demographics are a wake up call for philanthropy. You can read it here.
Also, if you haven't already seen it, take a look at D5's film, I Am A Philanthropist, which showcases the profiles of several diverse donors who are changing the face of philanthropy.
I am a philanthropist. My mom is a philanthropist. My friends are philanthropists. We are the future of philanthropy.
I come from a generous family that always gave back to the community. We gave every Sunday to church, we gave to school, we gave to causes, we donated our time, and we opened our home to families immigrating to this country. Our family embodied the core of what philanthropy is; even though I did not hear that word until college, it was not a word that was uttered in our home. More »
---
At the very core of D5's work to increase diversity, equity, and inclusion, is a commitment to making more financial resources available to diverse communities. We believe that raising the visibility and building the capacity of diverse donors and population-focused funds can make philanthropy more effective.
The Chronicle of Philanthropy recently featured an article on engaging Hispanic donors, which focuses on the role of new philanthropists in their communities, especially in keeping up with the demographic change in America. The article points out the various ways people do—or don't—give back to their communities. In many cultures and communities, the tradition of giving has always existed, but it may not necessarily have been formally defined as philanthropy. On the other hand, some people with the potential to give do not—simply because they have never been asked! More »
---