D5 news
---
Today, many foundations track and share data about DEI differently, or not at all. Despite the mountains of data that foundations do collect, philanthropy still cannot speak reliably about its impact. In this webinar, Brenda Henry-Sanchez of the Foundation Center, Eric Henderson, a communications professional with years of experience in the for-profit and nonprofit sectors, and Beth Tuttle of The Cultural Data Project discuss the successes and challenges of data collection in philanthropy.
Download the webinar slides here.
---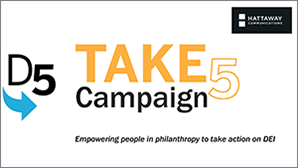 On February 19th, D5 hosted a webinar on the Take 5 Campaign, and how the philanthropy field can get involved.
D5's director, Kelly Brown, gave an overview of the campaign as well as shared the tools and resources that D5 offers to those who want to take action in advancing diversity, equity and inclusion (DEI) in philanthropy.
Alex Cole from D5's communications partner, Hattaway Communications, described D5's communications research and the resulting messaging strategy that will reach key audiences.
A key takeaway from this webinar is that the Take 5 campaign is about building a movement in the field, and D5 is here to help Champions engage others to move this work forward.
Please visit our Take 5 page to learn more about the campaign and to access the many tools and resources that D5 has to offer.
---
Today, D5 is launching the Take 5 Campaign, an initiative to empower champions of diversity, equity, and inclusion (DEI) and inspire foundations to take action. The campaign capitalizes on our most valuable resource—people—by helping them engage others in promoting and advancing DEI.

The Take 5 Campaign mobilizes champions of DEI to build support for the movement among peers within their own foundations as well as colleagues in other foundations.  Our goal: by 2015, 100 champions will pledge to take 5 actions—500 actions in total—to help advance DEI in the field of philanthropy.
Ambitious? Yes. Achievable? Absolutely. More »
---
While Analysis of Policies, Practices, & Programs Reveals Factors in Successful DEI Advancement, Opportunities Remain to Institutionalize Practices & Address Equity
CHICAGO, IL – A scan of philanthropy commissioned by the D5 Coalition has revealed emerging trends within the sector to successfully advance diversity, equity, and inclusion (DEI). The comprehensive scan, which reviewed written and web-based resources from philanthropy, as well as the fields of organizational effectiveness and social justice, identified five key elements—the "5 Ms"—critical to advancing DEI: Mobilizers, Missions, Money, Moments and Movements. A copy of the full report is available here.
"Advancing diversity, equity, and inclusion is critical to advancing the common good, increasing the effectiveness, and enhancing the impact of philanthropy," said Kelly Brown, Director of the D5 Coalition. "This analysis provides philanthropic organizations with the recipe to help successfully advance DEI. D5 will continue to be a resource for philanthropies to network and learn how other foundations are successfully advancing DEI and how they can do the same."
The scan found that while foundations incorporate DEI in a wide range of ways, the 5 Ms frequently stimulate change: More »
---
by: Mae Hong, Director, Rockefeller Philanthropy Advisors' Chicago Office
Population-Focused Funds (PFFs) are a vital part of the philanthropic sector. Since the 1970s, PFFs have been a powerful and growing force for social change. They are giving vehicles established by and for members of racial, ethnic, tribal, gender, sexual-orientation, and other identity-based groups to address critical issues within those communities. As they've grown in number and impact, it's helpful for  them—and others in the philanthropic community who seek to advance diversity, equity, and inclusion—to be able to connect with and learn more about this important network.
As director of the Rockefeller Philanthropy Advisors' Chicago Office and a member of D5's Leadership Team, I've learned how important it is to ensure that diverse communities have a voice among philanthropic leadership. PFFs  give those communities a voice and address their own needs directly. We have the potential to increase our impact even further by sharing information and building relationships with PFFs to advance our work. More »
---