Newsroom
---
Today, many foundations track and share data about DEI differently, or not at all. Despite the mountains of data that foundations do collect, philanthropy still cannot speak reliably about its impact. In this webinar, Brenda Henry-Sanchez of the Foundation Center, Eric Henderson, a communications professional with years of experience in the for-profit and nonprofit sectors, and Beth Tuttle of The Cultural Data Project discuss the successes and challenges of data collection in philanthropy.
Download the webinar slides here.
---
At D5, we believe in the importance of showcasing the work being done to advance Diversity, Equity, and Inclusion in the field. The following post is part of our ongoing series Building the Movement: Leaders Advancing Diversity, Equity, and Inclusion in Philanthropy.
By Cole Wilbur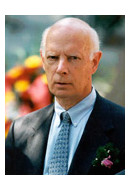 What value can diversity bring to the work of family foundations? First of all, diversity is now more interwoven into the fabric of our society, including our neighborhoods, education, business and media. Integrating diversity into many aspects of a family foundation's work can result in more compelling grantmaking, particularly in responding effectively to demographic changes that nonprofit organizations face every day.
Diversity also holds the promise of helping family foundations highlight fresh voices in leadership positions, inspire new thinking and gain insightful observations that strengthen a board's vision. More »
---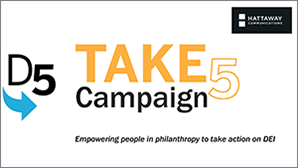 On February 19th, D5 hosted a webinar on the Take 5 Campaign, and how the philanthropy field can get involved.
D5's director, Kelly Brown, gave an overview of the campaign as well as shared the tools and resources that D5 offers to those who want to take action in advancing diversity, equity and inclusion (DEI) in philanthropy.
Alex Cole from D5's communications partner, Hattaway Communications, described D5's communications research and the resulting messaging strategy that will reach key audiences.
A key takeaway from this webinar is that the Take 5 campaign is about building a movement in the field, and D5 is here to help Champions engage others to move this work forward.
Please visit our Take 5 page to learn more about the campaign and to access the many tools and resources that D5 has to offer.
---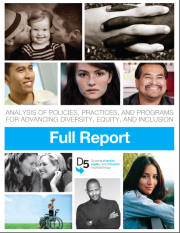 In a recent post on The Funders' Network blog, Paula Dressel of JustPartners, Inc. and co-author of D5's Analysis of Policies, Practices, and Programs for Advancing Diversity, Equity, and Inclusion (DEI) states, "Most foundations' missions cannot be optimally achieved without explicit attention to inequities that run the fault lines of race, gender, LGBTQ status, and disabilities."  In short, DEI is mission-critical.
Read Paula's full post to learn the steps that funders can take to advance DEI in their organizations – and sustain it. More »
---
Today, D5 is launching the Take 5 Campaign, an initiative to empower champions of diversity, equity, and inclusion (DEI) and inspire foundations to take action. The campaign capitalizes on our most valuable resource—people—by helping them engage others in promoting and advancing DEI.

The Take 5 Campaign mobilizes champions of DEI to build support for the movement among peers within their own foundations as well as colleagues in other foundations.  Our goal: by 2015, 100 champions will pledge to take 5 actions—500 actions in total—to help advance DEI in the field of philanthropy.
Ambitious? Yes. Achievable? Absolutely. More »
---