One of the frequently asked questions from people who are interested in advancing diversity, equity, and inclusion (DEI) is, "How can we start?"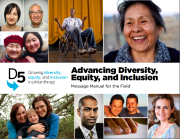 As listed on the Take 5 Action page, there are different actions that you can take to advance DEI. One of them is as simple as starting a conversation about DEI. You can either schedule a formal conversation by putting DEI on the agenda of your next board meeting, or meet with a colleague at another foundation to discuss ways to advance DEI.
D5, with our communications partner Hattaway Communications, has developed two communications tools for you to effectively talk about diversity, equity and inclusion.
Advancing Diversity, Equity, and Inclusion: Message Manual for the Field is a manual designed to help you communicate with a variety of audiences about the importance of advancing diversity, equity, and inclusion with a motivating, and compelling message.
We also have designed a communications guide for Take 5 champions. The booklet provides guidance and ideas on how to structure the conversation and includes guiding questions and key messages that you can use when you are starting to engage someone in advancing DEI work.
D5 can also help you conduct a communications training at your organization. Recently, we held a communications training for Philanthropy New York.
You can find other tools and resources to help you take action here. Let us know when you take action to advance DEI by signing up to be a Take 5 Champion or contacting D5 here.
Tags: communications tools, resource highlights, TAKE 5, TAKE 5 actions
---