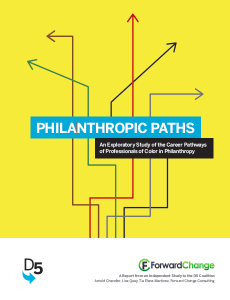 Low levels of diversity in the senior ranks of foundations have proven to be a stubborn challenge for the field of philanthropy.  A newly-released report by Forward Change takes an important step toward a deeper understanding of the career pathways of professionals of color in philanthropy—how they enter foundations, how they advance across their careers, and what factors affect their advancement within the sector.
Philanthropic Paths: An Exploratory Study of the Career Pathways of Professionals of Color in Philanthropy, the second of three research reports commissioned by D5, offers insights and perspectives that will inform future dialogue, strategies and actions. Among the study's most striking findings:
There was significant upward mobility within the sector among those interviewed for the report, with many professionals climbing the ladder from program officer to senior leadership. This finding was contrary to conventional wisdom which asserts that the path to the C-Suite most often comes from outside of the philanthropic sector.
Affinity groups—both issue-based and identity-based—are considered by professionals of color to be an important source of networking opportunities, mentoring, and social support.
An institutional commitment to diversity and inclusion on the part of staff and board leadership is an important contributor to advancement for professionals of color. Recognition of the importance of diversity and its value, most often outside the context of a formal diversity program, appears to be a key factor in the hiring of diverse professionals.
D5 recently hosted a webinar with the report's authors which you can watch here.
Tags: career trajectories, leaders
---