Supporting diverse emerging leaders is one way to Take Action to advance diversity, equity, and inclusion in philanthropy. By helping to build the pipeline of strong diverse leaders, you help to expand the pool of future foundation CEOs and trustees that reflect demographic trends.
The Association of Black Foundation Executives (ABFE) is one of several organizations that offer  leadership preparation programs for diverse philanthropy professionals. Learn more about ABFE's Connecting Leaders Fellowship – now accepting applications.
Another model to take a look at is the MCF Philanthropy Fellowship which is sponsored by the Minnesota Council on Foundations and the Bush Foundation. This program prepares individuals from underrepresented groups for careers in philanthropy.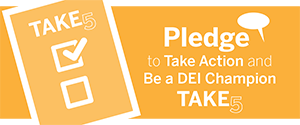 Tags: abfe, leaders, MCF, TAKE 5, TAKE 5 actions, Take 5 Resource
---