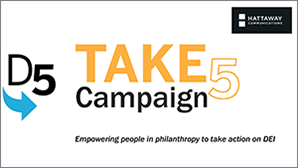 On February 19th, D5 hosted a webinar on the Take 5 Campaign, and how the philanthropy field can get involved.
D5's director, Kelly Brown, gave an overview of the campaign as well as shared the tools and resources that D5 offers to those who want to take action in advancing diversity, equity and inclusion (DEI) in philanthropy.
Alex Cole from D5's communications partner, Hattaway Communications, described D5's communications research and the resulting messaging strategy that will reach key audiences.
A key takeaway from this webinar is that the Take 5 campaign is about building a movement in the field, and D5 is here to help Champions engage others to move this work forward.
Please visit our Take 5 page to learn more about the campaign and to access the many tools and resources that D5 has to offer.
Tags: action, communications tools, TAKE 5, webinars
---