The Boston Globe recently did a feature on the Cultural Inclusion pilot project, a partnership of Jericho Road Lawrence (Massachusetts) and the YWCA of Greater Lawrence, Inc., which is in its second year of working to increase diversity on nonprofit boards.
"When we started this, we saw a clear inequity between the demographics of nonprofit boards and the populations they served," said Joan Kulash, executive director of Jericho Road Lawrence, a nonprofit that strives to address social and economic disparities in the region by strengthening local nonprofits. "It seemed unfair."
On average, 86 percent of nonprofit board members nationwide are white — a trend that is reflected in Lawrence, MA, where few minorities serve on nonprofit boards though nearly 74 percent of residents are Latino or Hispanic, according to the latest US Census data.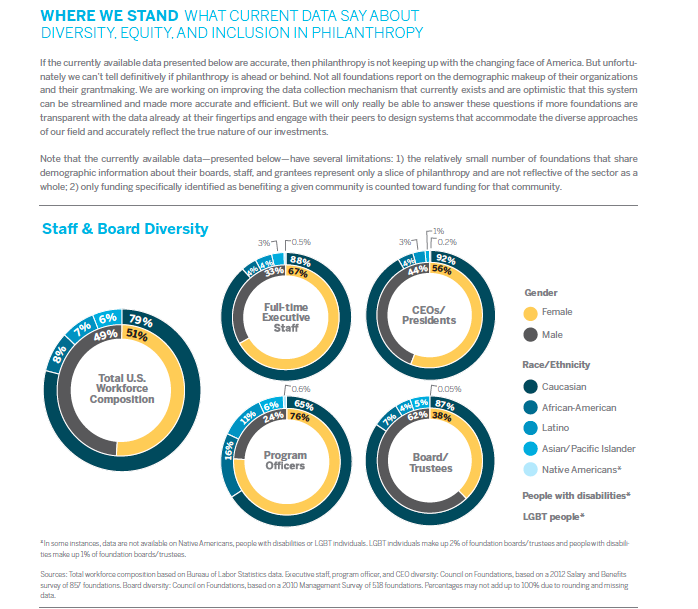 These numbers are not much different in philanthropy. From D5's State of the Work 2013 , the numbers paint a similar picture: 87 percent of foundation board members and trustees are white.
The Cultural Inclusion project trains people from diverse backgrounds on what it takes to serve on a nonprofit board. However, what makes this project different from most nonprofit board preparation programs is that the work goes both ways – the recruits aren't the only ones who are being trained; nonprofits are also given cultural competency training to make sure that they are ready to welcome a more diverse board.
Inclusion is the key word in this project because the work doesn't just stop with having more diverse people on the board. Nonprofit and philanthropic boards that recruit diverse members need to ensure that people feel included and comfortable in letting their voices be heard.
Philanthropy's leadership is critical to progress on diversity, yet foundation CEOs and boards do not reflect the nation's diversity regarding race and ethnicity, gender, LGBT communities, and people with disabilities. D5 is working to catalyze changes in foundation decision-making that result in greater inclusiveness and diversity among new leadership appointments.
What is your foundation doing to increase diversity and inclusion in your leadership?
In the Tools and Resources section on D5's website you can find resources on diverse board leadership, such as the Jessie Ball duPont Fund's journey towards board diversity, or this 2011 Nonprofit Quarterly article on leveraging the transformative potential of board diversity.
Tags: diverse leaders, diversity, leadership
---