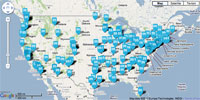 We're proud to launch the first-ever directory of population-focused funds—giving vehicles that enable diverse donors to give to diverse communities.
The directory provides information on more than 400 population-focused funds operating throughout the United States. Read on to find out more about why these funds are so important and read our News release on PFF Directory June 2011 on the directory's launch.
The Best-Kept Secret in Philanthropy?
According to Judy Belk, Senior VP of Rockefeller Philanthropy Advisors and a founding partner of the D5 coalition, population-focused funds are an important but little known resource in the field of philanthropy, and I agree. As you can see from a look at our new directory, these funds range in size, approach, form, and location (check out the map view of the directory) and are touching communities as diverse as the rural South, urban barrios and Native American reservations. What population-focused funds have in common is how effective they are in channeling philanthropy from diverse donors to diverse communities.

Explore the listings in the directory and you will see the potential these funds have to support diverse and underserved communities across the country.  These Funds reflect indigenous leadership which doesn't wait for government grants or external support to mobilize the resources needed to serve the pressing needs of their constituents.
The directory reflects four key reasons why I think you should care about population-focused funds.
They create homegrown philanthropy. These funds raise resources from community donors for community causes—where "community" is defined by shared culture and identity-based experience. You'll find funds focused on communities of all colors, along with women and LGBTQ populations. The donors are, as the Ford Foundation's former Senior Program Director Linetta Gilbert put it, "recreating philanthropy by defining it for themselves."
They're helping bring a new kind of donor into philanthropy. For example, look up the Black Belt Community Foundation and check out how they enlist leaders to raise and give money, identify grantees, and recruit volunteers. These leaders, contends Judy Belk, redefine the notion of who is a philanthropist. Ava Hernandez, a donor and leader of Latinas en Acción, a fund of the Women's Fund of Greater Milwaukee, says her participation in a population-focused fund "was the first time I was involved in something on a larger level in the community from the ground up….I went from activities to fundraiser to donor. It was a gradual move and a real journey."
They are a growing segment of giving. As reported in our State of the Work 2011 report, these funds give more than $467 million annually. That means population-focused funds, all told, have the financial power of what a $9 billion foundation would have. This is a robust part of organized philanthropy in the United States that often goes overlooked but can play a vital and unique role. "We can support organizations that other foundations and corporations would not or could not support," says Maria Bechily, a founder of the Nuestro Futuro fund in Chicago.
They represent a promising strategy for supporting diverse communities. One of the D5 Coalition's four big goals is to help annual funding for diverse communities increase substantially by 2015. Supporting and documenting population-focused funds is our centerpiece strategy for achieving that goal.
How do you feel about these funds and their impact?  Check out the directory and let me know what you think.  As we prepare to slice and dice the data, what do you want to know about population-focused funds? What can the D5 Coalition do to help their growth and profile? We want to hear what you think. Contact us!
---