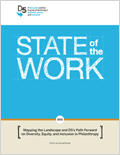 State of the Work 2011: Mapping the Landscape and D5's Path Forward on Diversity, Equity, and Inclusion in Philanthropy, the first report in an annual series, is designed to guide the D5 coalition's work and measure our progress over the next five years. We also think it begins to illuminate where U.S. philanthropy as a whole is on a number of fronts related to diversity, equity, and inclusion. It includes information about board and staff composition; diversity and inclusion policies and practices; educational programs and tools; grant sizes and recipients; research efforts; and success stories. Read the report.
State of the Work 2011 confirms our hypothesis that the field has a ways to go on diversity, equity, and inclusion. Through research and analysis by D5 coalition partners as well as other sources, our review found that…
The demographics of foundation executives and trustees don't reflect the nation's overall diversity.
Fewer than a third of foundations have diversity policies and practices in place.
Available data suggest that diverse communities don't get as much from grant makers as others.
Philanthropy needs more standardized data collection on diversity-related issues.
The State of the Work series "will be our annual tracking device, showing the field where we're making progress, where we're falling short, and where we don't even have the right data," says Karen Zelermyer, President & CEO of Funders for LGBTQ Issues, a D5 coalition partner organization. "There's never been anything like that in philanthropy around diversity and inclusion."
There are seven success stories also highlighted in State of the Work 2011. From how the Minnesota Council on Foundations tracked diversity in its state to how staff at the Rockefeller Brothers Fund used diversity principles to transform their organization to how the Ford Foundation has spent a decade bringing philanthropy to communities of color in the South, these stories help further illuminate how the work of growing philanthropy's diversity, equity, and inclusion can unfold on the ground.
Explore State of the Work 2011 and these stories. What's your story? Share your work on these issues.
---